Life, Death, & Who Played Sherlock Holmes: More Than a Trivial Mystery
Life, Death, & Who Played Sherlock Holmes: More Than a Trivial Mystery
Aug 15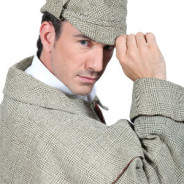 Here's a question. Can you name the actor, born in South Africa to British parents, who most often portrayed Sherlock Holmes in films? Keep in mind that he played the famed detective in 16 movies throughout the 30s and 40s as well as lending his voice to the famed fictional detective in more than 200 radio plays. Over time, his physical appearance became synonymous with the name Holmes.
If you answered Basil Rathbone, you are a true mystery movie fan and probably enjoy watching the films as well as reading iconic stories from the famed detective series. True fans head here for more information on the original Sherlock stories.
However, there is more to Basil Rathbone than just Sherlock Holmes. Wow your friends with your extensive body of Basil Rathbone knowledge the next time you head out for Trivia Night.
While it's true that Basil Rathbone was born in South Africa to a British mining engineer father and South African mother, the family was forced to flee the nation when Basil was just three years old. Accused of being a British spy in 1895 during the build up to the Boer War, the Rathbone patriarch relocated his family to England where Basil spent the remainder of his childhood.
The Great War
Even though his acting career was already starting to take off by the time the Great Conflict tore through Europe, Basil Rathbone signed up for service like many of his contemporary actors. His regiment included future thespian greats including Claude Raines, Ronald Coleman, and Herbert Marshall.
After his younger brother John died in battle in 1916, Basil convinced his superior officers to let him scout enemy territory during the daytime hours. For this extremely dangerous activity, he was awarded the Military Cross.
Both Villain & Hero
For Rathbone, the Sherlock role was the chance of a lifetime. With a compelling voice and fearsome stage and movie presence, the actor seemed doomed to a career filled with villainous roles until he accepted the iconic role of the heroic detective.
His film career began in the 1920s and continued until the 60s, he was considered the greatest Hollywood swordsman of all time, and he was nominated for an Oscar on two separate occasions but lost to the same actor, William Brennan, both times.