James Bond Makes An Arrest & Some Interesting Facts About Sean Connery
James Bond Makes An Arrest & Some Interesting Facts About Sean Connery
Jul 15
While on the subject, this one is also too good to be true, but it is true.  I remember, first hand, hearing this news report on the radio when it happened.
It seems that Sean Connery, the first and still most successful in terms of box office receipts, James Bond was pulled over for speeding and ticketed. I've been ticketed 3 times in my life.  That's a rather remarkable factoid when you consider how often I speed.  But truth be told, it really isn't that interesting that a speeder was caught and ticketed.
What made this particular demonstration of justice interesting is that the arresting officer was Police Officer James Bond.  Sean Connery was ticketed by James Bond!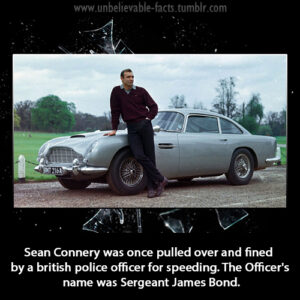 Sean Connery As Bond
Sean Connery was cast in his breakthrough role as James Bond in the year 1962. And indeed, there have been many James Bonds throughout my lifetime, but none as special as Connery's, at least in my opinion.
It may be due to the nostalgia with which I look upon past times, but there's something different about those "old school" 007 movies. I think they truly embody the 'old school cool' cliché and, with Connery at their helm, it's difficult not to develop a significant appreciation for the man behind the Walther PPK.
Connery filled in as 007 in the following iconic Bond movies:
Dr. No ('62)
From Russia with Love ('63)
Goldfinger ('64)
Thunderball ('65)
You Only Live Twice ('67)
Diamonds are Forever ('71)
Never Say Never Again ('83)
All of the above listed 007 films were not only extremely successful upon their releases, but they've continued to garner attention from Bond neophytes who've stumbled upon them decades later.
Interestingly enough, when a From Russia with Love video game was released in the year 2005, game developer Electronic Arts (EA) actually had the man himself, Sean Connery, come in a complete the voice overs. I wouldn't have it any other way!
Post-Bond Connery
Although playing the part of James Bond brought Mr. Connery unimaginable fame and acclaim, Sean Connery as an individual grew tired of the attention he received and the pressure put on him not only by fans but by the Bond franchise.
A close friend of Sean, Michael Caine, was even quoted as saying "If you were his friend in these early days you didn't raise the subject of Bond. He was, and is, a much better actor than just playing James Bond, but he became synonymous with Bond. He'd be walking down the street and people would say, "Look, there's James Bond." That was particularly upsetting to him."
As fortune would have it, Sean Connery would be able to escape his secret agent typecast slightly when he was cast in 1987's The Untouchables, a role which would yield him not only a nomination for an Academy Award but a wholehearted win of the Best Supporting Actor award.
Connery Retires
It was in the mid-2000s, after receiving a Lifetime Achievement Award from the American Film Institute, that Sean Connery would officially announce his retirement from acting.
Hopeful fans, as well as industry insiders, would spread rumors that the historic actor could potentially make a return in a 4th Indiana Jones film, however, this never came to pass.