What's In A Name?
What's In A Name?
Dec 16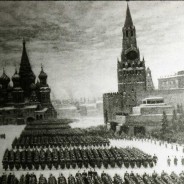 Red Square brings us pictures of troops marching in massed formations, military vehicles and tractors dragging the latest Soviet rockets past the Soviet leadership standing atop Lenin's tomb, the Kremlin wall with turrets capped by gigantic lighted red stars, and flags, red banners, everywhere. Since the mid-nineteenth century, we have associated the color red with Socialism and Communism. Of course, Red Square is called after the Soviet Union's communist regime.
Incorrect. The name "Red Square" is unrelated to communism. Red is, after all, the color of Socialism and Communism. During the 1848 Revolutions, the color red was selected to represent the blood of the workers who had perished either as a result of the drudgery imposed by Capitalism or as a result of the battle against it. Red was the official color of all major Socialist and Communist coalitions and organizations, including the First, Second, and Third Internationals. It's ironic that in the United States, the color red has come to designate Republican-leaning states, which are about as distant from Communism as one can go.
So why is it called Red Square?  Especially considering that at various times in Moscow history, the bricks of the Kremlin were whitewashed.  It appears to be a confusion as to the correct Russian word for the name of the square.  The word, prekrasnaya, become over time shortened to krasnaya, and can mean either the word "red" or the word "beautiful".  The square was originally called "pozhar", or "burnt out place", and the krasnaya, or "beautiful", was applied to the famous St. Basils (or Vasily in Russian) which is a familiar sight with its lovely and colorful onion domes.  Over time, the name krasnaya became associated with the beautiful square that arose from the ashes of the burning of Moscow after the Napoleonic invasion, occupation, and eventual retreat.  And so the Krasnaya Ploshchad, or Beautiful Square, became mistranslated as Red Square.  In fact the Krasnaya Ploshchad of Moscow is not the only such named square in Russia, with squares name thus in Suzdal, Yelets, Pereslavl-Zalessky, and other cities.  So while some Soviet Era names have stuck, such as the GUM Department Store which makes up one side of Red Square, the name Red Square predates the Soviets and has stuck.